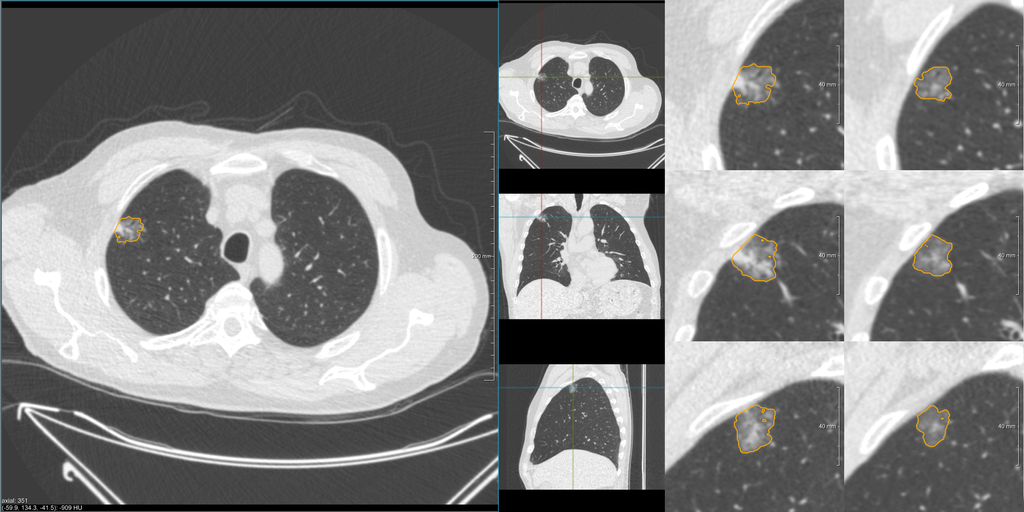 Job description
We are looking for a highly motivated and talented PhD candidate to join our multidisciplinary MERAI Lab. This new lab consists of 5 PhD students who will collaborate on creating responsible AI technology for the lung oncology field, in particular for lung cancer screening. The aims are to improve accuracy when interpreting the increasing amount of scans for purposes of screening, treatment selection and treatment monitoring, to reduce the time needed to report these scans and thus to improve the cost-effectiveness of our healthcare system. For responsible development and use of AI-based imaging, it is essential that we guarantee robust and trustworthy AI solutions that reach performance close to human experts.
Population screening for disease has always been accompanied by ethical and societal concerns, for example regarding the balance between benefits and burdens/risks, and the tension between individual and societal values and interests. The introduction of AI in screening programs will likely change earlier considerations concerning ethical, legal and societal acceptability as well as introduce novel challenges. The lab is therefore looking for a PhD student to investigate how to foster an ethically and societally responsible development of AI-enabled lung cancer screening.
Tasks and responsibilites
you design qualitative empirical and ethical research to identify potential ethical, legal and societal issues of lung cancer screening in general and AI-based screening in particular;
you collect data (for example via document analysis, interviews and focus groups), and together with the team you analyze and interpret the findings;
together with stakeholders you evaluate the findings and identify conditions for ethically responsible AI-based lung cancer screening;
together with your colleagues in the MERAI lab you consider how to translate these conditions into the research and development process;
you take care of (part of) the organization of the above research activities, for example organizing interview and stakeholder meetings;
you write scientific papers and you present your results at meetings and conferences in the Netherlands and abroad;
ultimately, you write and defend a PhD thesis.
Profile
You have a master diploma in philosophy, ethics, science & technology studies or another relevant social science program and you have demonstrable interest in healthcare innovation and/or AI technology; or you have a master diploma in the biomedical or health sciences or medicine, with a demonstrable interest in ethical and societal challenges posed by healthcare technology.
You have experience with conducting qualitative empirical research and/or ethical research.
Familiarity with legal research in healthcare and/or AI is a plus.
You are highly motivated to collaborate with researchers from a variety of disciplinary backgrounds.
You are able to work independently, but you enjoy working in a team.
You have good social interaction skills, take initiative and have a talent for organization.
You have good English speaking and writing skills; ability to conduct interviews in Dutch is a plus.
Terms of employment
You will be appointed for four years as a PhD student with the standard salary and secondary conditions for PhD students in the Netherlands. The research should result in a PhD thesis.
Organization
MERAI Lab is a multi-disciplinary collaboration between Radboudumc and MeVis Medical Solutions with the mission to create world-leading AI-supported software solutions for healthcare. This lab is one of the 17 new ICAI labs that are being initiated within the 10-year LTP ROBUST program "Trustworthy AI-based Systems for Sustainable Growth" consortium, which unites 17 knowledge institutions, 19 participating industry sponsors and 15 civil-social organisations from across the Netherlands.
MERAI Lab is embedded within the Diagnostic Image Analysis Group (DIAG). The group currently consists of around 70 researchers. This position is in close collaboration with the department of IQ Healthcare. The department of IQ Healthcare has the mission to support policy and practice with knowledge and skills to realize good, safe and responsible healthcare. The Ethics of healthcare group in this department consists of an enthusiastic team of ten staff members and 7 PhD students and postdocs. Our group provides education and training in ethics, conducts ethical research and provides ethical advice and support for all kinds of actors and organizations in healthcare. Our research focuses on four themes: Ethics of technology in healthcare; Differences, inequality and justice; Experiences of and dealing with fragility and suffering; and Ethical deliberation and moral judgment. With our activities we aim to stimulate critical-constructive, ethical and interdisciplinary reflection on what constitutes good care for health and disease, and how to foster it, now and in the future.
Radboud University Medical Center and Radboud University are located in Nijmegen, the oldest Dutch city with a rich history and one of the liveliest city centers in the Netherlands. Radboud University has over 17,000 students. Radboud UMC is a leading academic center for medical science, education and health care with over 8,500 staff and 3,000 students.
Application
Please apply here.