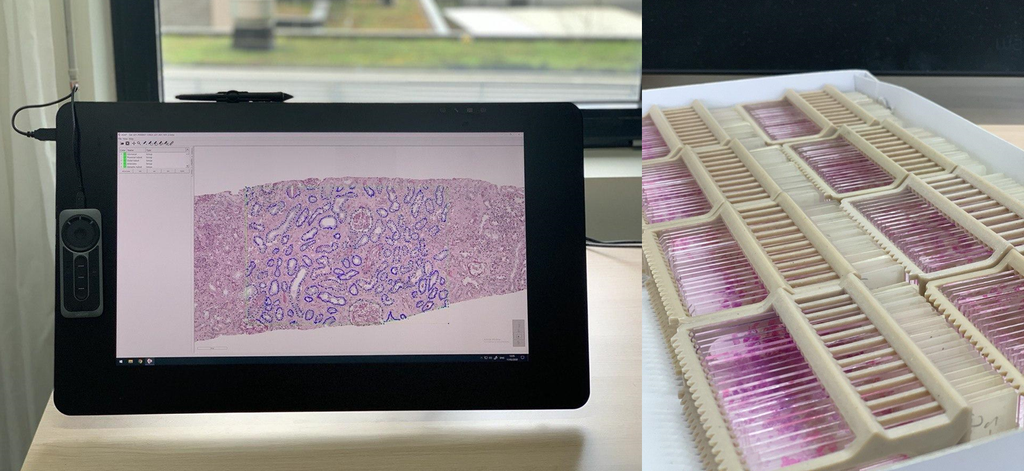 Background
The Computational Pathology Group of Radboudumc Nijmegen develops neural networks based on Deep-learning techniques for the analysis of histopathological slides. Our neural networks are trained using whole slide images (WSI). WSIs are generated by scanning histopathological slides on a very high resolution. Structures and cells are subsequently carefully annotated inside these WSIs; these annotations are used as examples for our neural networks. We are looking for a student assistant that can help us with preparing the histopathological slides for scanning and with generating annotations for our networks. Working hours are flexible and you will be employed based on a zero-hour contract.
Profile
We are looking for someone who is:
Available during weekdays, minimum of 8 hours per week
Precise
Equiped with good communication skills; you can work independently but you know when to speak up
Comfortable with speaking English
Skilled with computers (preferably)
Experienced in pathology (preferably)
Organisation
The Computational Pathology Group is a research group of the department of Pathology of the Radboud University Medical Center. We are part of the interdepartmental Diagnostic Image Analysis Group (DIAG). We develop, validate and deploy novel medical image analysis methods, usually based on machine learning technology and focusing on computer-aided diagnosis. Application areas include diagnostics and prognostics of breast, prostate and colon cancer. Our group is among the international front runners in the field, witnessed for instance by the highly successful CAMELYON16 and CAMELYON17 grand challenges which we organized. We closely collaborate with clinicians and industry.
Working at Radboudumc
Radboudumc strives to be a leading developer of sustainable, innovative and affordable healthcare to improve the health and wellbeing of people and society in the Netherlands and beyond. This is the core of our mission: To have a significant impact on healthcare. To get a better picture of what this entails, check out our strategy.
Application
If you are interested in the position please send your CV and motivation to Dr. Jeroen van der Laak or Elke Loskamp-Huntink.