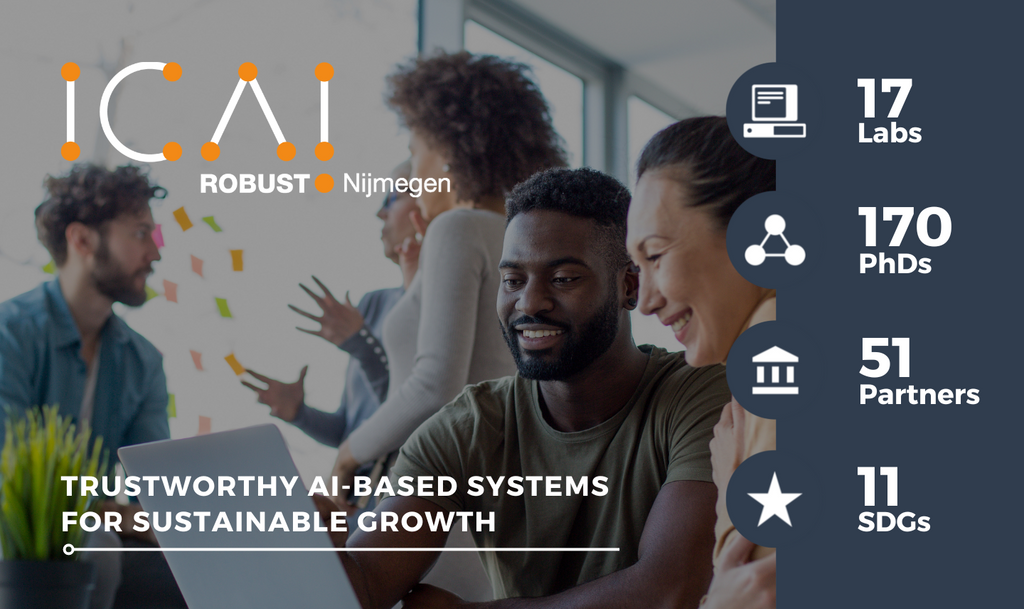 ROBUST AI programme
The ROBUST AI programme, a new initiative by the Innovation Center for Artificial Intelligence (ICAI), aims to strengthen the Dutch artificial intelligence (AI) ecosystem by boosting fundamental AI research. The programme is supported by the University of Amsterdam and 51 government, industry and knowledge-sector partners. ROBUST focuses primarily on the development of trustworthy AI technology for the resolution of socially relevant issues, such as those in healthcare, logistics, media, food and energy.
Seventeen new public-private ICAI labs will be set up under the ROBUST umbrella and form part of the Innovation Center for Artificial Intelligence (ICAI), thus bringing its lab total to 46. ICAI focuses on AI talent and knowledge development in the Netherlands.
Radboudumc is one of the 17 knowledge institutes participating in ROBUST and will host four new healthcare ICAI labs: MERAI Lab, HEALTHY-AI Lab, AI for Parkinson lab, and CARA lab.
Healthy AI Lab
HEALTHY-AI is a collaboration between Radboudumc, University Medical Center Groningen, University of Twente and Siemens Healthineers. HEALTHY-AI develops reliable and robust artificial intelligence (AI) technology with a specific focus on MRI-guided prostate cancer diagnosis and treatment. A team of five PhDs will be working on projects related to annotation efficiency, pathway risk predictors, AI quality control, follow-up comparison, and MRI automation. In the next five years, HEALTHY-AI aims to improve AI by optimizing data annotation processes, improving the ability to predict treatment outcomes, and continuously learning under quality control. This will result in improved cancer detection and follow-up, and the automation of MRI will enhance image quality and dynamic protocols for prostate cancer.
Job description
We are looking for two highly motivated and talented PhD candidates. You will be part of one of the 17 new ICAI labs, HealthyAI, consisting of 5 PhD students who will collaborate on exploring AI solutions for prostate oncology. Will you join our ambitious team?
HealthyAI is a multi-disciplinary collaboration between Radboudumc, University Medical Center Groningen, Technical University Twente, and Siemens Healthineers to create world-leading AI for healthcare. HealthyAI is unique as it is the first to explore continuous multi-center data collection and quality managed AI as an ever-improving learning healthcare solution focusing on prostate cancer diagnosis.
Currently, two positions are available in Radboudumc.
The first position is focused on Reinforcement Learning (RL) and aims to design, train, and evaluate an "ethical AI" roadmap, which will render RL suitable for use in clinical routines. We aim to render RL suitable for use in clinical routines, by exploring AI algorithms that are transparent and explainable. The sequences of clinical decisions for individual patients should improve long-term health outcomes. Clinical data is available in an open-source database of pathway data, such as MIMIC IV, and the continuously collected clinical pathway data at Radboudumc and UMCG.
The second position focuses on AI to assist the MRI operator in making timely decisions for better results, e.g., by automatically detecting a patient's breath-hold capability, implant status, the presence or absence of motion, and providing the operator with recommendations for patient-tailored strategies. We aim to integrate AI to render MRI smarter and more efficient.
Tasks and Responsibilities
Investigate AI algorithms and collect data that support the continuous interpretation of healthcare data and MRI, in particular.
Collaborate with a multidisciplinary team to translate cutting-edge technology into sustainable, quality-managed clinical practice.
Publish research findings in peer-reviewed journals and present at international conferences.
Mentor junior team members, students and assist in teaching.
Support ongoing local, national and international collaboration with clinicians, clinical centers.
Help set up and maintain the learning healthcare system on GrandChallenge.org, which runs on AWS.
Profile
We are seeking two highly motivated candidates with an MSc degree in Computer Science, Physics, Engineering, Biomedical Sciences, or a related field to join our team. The ideal candidate will possess the skills and expertise to train and develop deep-learning artificial intelligence algorithms, as well as strong academic writing and presentation abilities. In addition, a clear understanding of MRI is required for the second position. The successful candidate will thrive in a collaborative, multidisciplinary team environment.
Terms of employment
Preferred starting date is September 2023. Working at Radboud university medical center means that you are ahead of the curve and working together on the healthcare of the future. And there is more. Our secondary terms of employment are impressive. These are fully tailored to you thanks to our Employment Conditions Selection Model. At Radboud university medical center, you will be given trust, and you will take the responsibility to handle everything together. We provide annual courses, both professional and personal.
A gross monthly salary between € 2.789 and € 3.536 (scale 10A) based on full-time employment.
From 1 November 2023 the wages will increase by 4%.
An annual vacation allowance of 8% and an end-of-year bonus of 8.3%.
If you work irregular hours, you will receive an allowance.
As a full-time employee (36 hours per week), you are entitled to approximately 168 vacation hours (over 23 days) per year.
Radboud university medical center pays 70% of the pension premium. You pay the rest of the premium with your gross salary.
You get a discount on health insurance as well: you can take advantage of two group health insurance plans. UMC Zorgverzekering and CZ collectief.
Organization
You will work in the Healthy-AI lab, closely linked to the Diagnostic Image Analysis Group (DIAG). DIAG develops computer algorithms to interpret and process medical images. The group currently consists of around 70 researchers. Radboud University Medical Center and Radboud University are located in Nijmegen, the oldest Dutch city with a rich history and one of the liveliest city centers in the Netherlands. Radboud University has over 17,000 students. Radboud UMC is a leading academic center for medical science, education and health care with over 8,500 staff and 3,000 students.
Information
For more information please contact the lab manager by e-mail: Henkjan Huisman
Application
Will you make a difference for our patients? We would like to receive your application before 3 July 2023. We will then contact you shortly. Dates will be planned in discussion with candidates. You should supply a motivation letter, your CV, links to a Google Scholar profile, a list of grades and courses you have followed including online courses on deep learning and similar topics, and links to any publications you have written plus any code you have written and is publicly accessible, e.g., on a GitHub account.