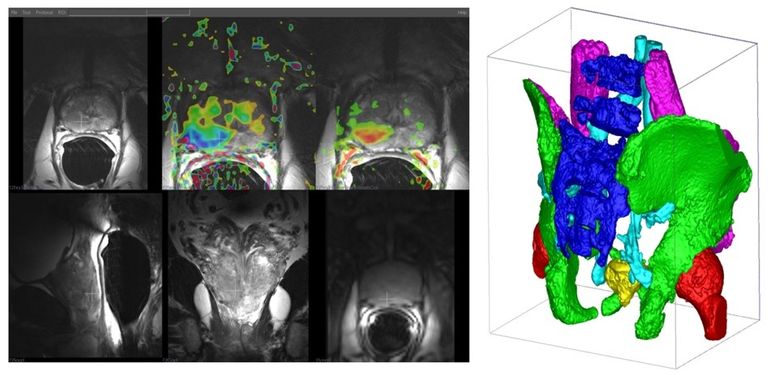 Background
One million men receive a prostate cancer diagnosis, and three hundred thousand die from prostate cancer each year worldwide. Magnetic Resonance Imaging (MRI) represents a breakthrough by accurately detecting clinically significant prostate cancers at an early, potentially more curable stage. The same MRI can also be used for better treatment targeting and for avoiding unnecessary systematic biopsies. As a result, the demand for prostate MRI is rapidly increasing. Unfortunately, reading these multiparametric MRI (mpMRI) exams is difficult and requires substantial expertise. Computers can potentially extract more information from mpMRI, more reliably, and more accurately than human readers. Artificial Intelligence and more specifically, Deep Learning is becoming indispensable in helping improve mpMRI diagnostic performance. This EU funded project aims to research deep learning computer-aided diagnostic (DL-CAD) that will demonstrably help clinicians to get the best possible prostate cancer diagnosis from mpMRI. Radboudumc is a clinical expert on prostate MRI and technical expert in the field of prostate AI technology for over 20 years and an early adopter of deep learning in medical imaging. This project is a continuation of previous research in which CAD achieves expert performance in evaluating single time point mpMRI. In this project, we will focus on surveillance mpMRI that has the potential to reduce unnecessary biopsies further and reduce over-treatment. For this project, we are seeking a PhD student.
Profile
A creative and enthusiastic researcher with an excellent MSc degree in a relevant field, such as medical image analysis, computer vision, or machine learning. The ambition and academic skills to write and present scientific papers. Substantial experience with deep learning and good programming is essential and should be evident from the (online) courses you've followed, projects you've done, and your GitHub account. Experience in developing/exploring medical image analysis algorithms and a strong affinity with medical topics.
Organization
The PhD will work at DIAG (diagnijmegen.nl) and MAGIC. DIAG currently has 50 deep learning researchers focused on various medical image analysis topics. The focus of DIAG is the development and validation of novel methods in a broad range of medical imaging applications. Research topics include image analysis, image segmentation, machine learning, and the design of decision support systems. Application areas include neuro, breast, prostate, lung and retina imaging and digital pathology. Key to the success of the group is close cooperation with clinicians. A team of scientific programmers is supporting our deep learning research, maintaining a large cluster of computers equipped with high-end GPUs for large-scale experimentation. The Diagnostic Image Analysis Group (DIAG) is a research division of the Department of Radiology and Nuclear Medicine of the Radboud University Medical Center Nijmegen. Nijmegen is the oldest Dutch city with a rich history and one of the liveliest city centres in the Netherlands. Radboud University has over 17,000 students. Radboud UMC is a leading academic centre for medical science, education, and healthcare with over 8,500 staff and 3,000 students. The research is carried out in strong collaboration with radiologists at the department of Radiology and EU partners (AI specialists and expert clinicians) in the EU project. The Minimally Invasive Image-Guided Intervention Center (MAGIC) has its roots in MRI-guided prostate treatment, and we have expanded to CT-, US-, and MR- image guided oncologic interventions, as for example biopsy of prostate, bone and liver; (non-) thermal ablations of pancreas, liver, kidney, prostate and vascular malformations. Supplementary we focus on nuclear interventions with Holmium particles; intra-operative navigation; robotics; ex-vivo imaging; clinical decision support; and perfusion and vascular interventions. The interventions are developed and performed in close collaboration with the Medical Innovation and Technology expert Center (MITeC).
Application
Please apply before Sep 1, 2020 via this link. In your application include a motivation letter, your CV, list of grades and links to publications, your Master thesis or other works you have written in English. Questions can be directed to Henkjan Huisman.