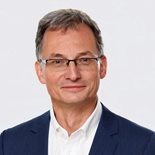 Mathias Prokop
Mathias Prokop studied Medicine and Physics in Germany, in Marburg and Hannover. He finished his training as a radiologist at Hanover Medical School, and then continued as a staff member and head of CT and ultrasound. He was one of the pioneers in digital radiography and spiral CT, introducing CT angiography and optimizing scanning techniques.
In 1998, he transferred to the University of Vienna as an Associate Professor, where he optimized multislice CT techniques and vastly expanded the applications of CT imaging. After his move to the University Medical Center Utrecht in 2002, he finished his book on Spiral- and Multislice CT Imaging, which became an international bestseller in Radiology that was translated into 5 languages. Utrecht appointed him Full Professor in 2004, and his work focus moved to early detection of disease, especially lung screening and cardiac imaging. His fruitful collaboration with Bram van Ginneken explored applications of machine learning in chest imaging.
He became Chairman of the Department of Radiology at Radboudumc in 2009. By 2020, Radiology, Nuclear Medicine and Anatomy had been fused to form the Department of Medical Imaging. The research at the Department focuses on technical and clinical innovations that improve patient outcomes while keeping cost under control. Besides main clinical groups that tackle lung cancer, breast cancer, prostate cancer, pancreatic cancer, metabolic disease and vascular malformations, fundamental research groups cover Ultrasound, X-ray tomographic techniques, MRI, nuclear medicine and artificial intelligence. The department hosts one of the largest research groups in Europe with well above 300 publications per year.
He is currently head of the Dutch Society of Radiology (NVvR), and focuses on the strategic re-orientation of Radiology away from pure reporting towards diagnostic consulting, treatment and innovation functions. His goal is to better position the diagnostic process and minimally invasive treatment within the healthcare systems of the future. He believes that more precise diagnoses can avoid unnecessary pain, treatment and cost and can help keep our healthcare system sustainable.
As of May 1, Mathias Prokop will also become Department Head of Radiology at University Medical Center Groningen (UMCG). He will fulfill this role in addition to his current position as Professor and Department Head of Imaging at the Radboudumc.
Current research projects:

Finished research projects:

Software:

Member of: